Skate Camp
About Skate Camp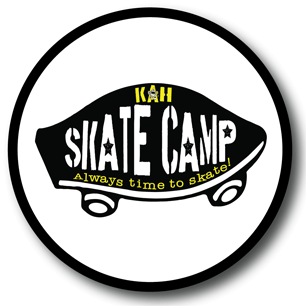 Skate Camp is an ACA accredited camp geared for kids who eat, sleep and breathe skateboarding! Skate Camp offers eight weeks of skateboarding and instruction. The camp provides a challenging environment for beginner, intermediate, and advanced skaters (ages 7 to 12 years). Because we do A LOT of skateboarding throughout the day, we encourage campers to have some ability to skate before coming to our camp! However, as long as your camper has a strong desire to be on their skateboard all week long, we would be happy to have them join our program! Experienced counselors are dedicated to developing the skills of young skaters and a love of the sport.
Tuition
$330 per week
Week 1: $275
Week 3: $275
Refund/Schedule Change Policy: All payments are always 100% Refundable (all payments means ALL payments; registration fees, deposits, EVERYTHING). You can change or cancel your child's schedule at any time, although we prefer at least a week's notice of changes so campers on our waitlist have a chance to come to camp!
What to bring to Camp:
Helmet
Pads
Skateboard
Lunch
Bathing Suit
Towel
Waterbottle
**Please bring your own skateboard, pads, and helmet!**
Hours
Regular Camp Day: 8:45am - 3:30pm
Before/After Care: 7am - 6:30pm (for no extra charge)
Extended Care is available from 7am to 6:30pm for all Campers at no addtional cost.
Sk8 Camp goes on daily trips to area skate parks as well as the swimming pool!
Our Locations
Click here for details on all of our skate camp pick up locations:
Barnsley ES (Rockville area)
Forest Knolls ES (Silver Spring area)
Garrett Park ES (Kensington area)